Ansulex extinguishing system
Ansulex extinguishing system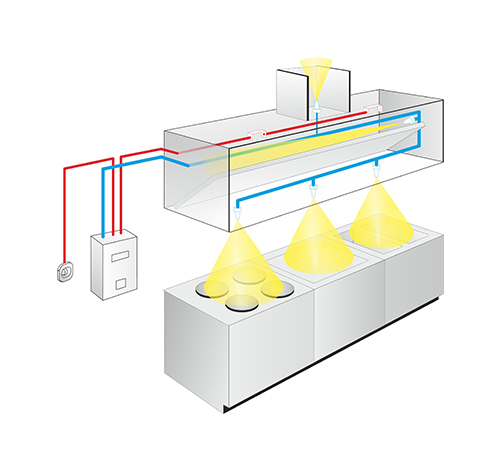 The best protection against a kitchen fire is an automatic fire extinguishing system intended for grease fires. As a fire in a fryer, grill, frying table or other kitchen equipment can spread incredibly quickly in the large amounts of oil stored in filters, hoods and ventilation ducts. Fat burns are difficult to extinguish and self-ignite again after extinguishing if they are not extinguished with the right method. Ordinary carbon dioxide extinguishers are not enough, but larger and more advanced systems are required.
We provide Ansulex fire extinguishing systems that are adapted for the kitchen, whether it is a small barbecue kiosk or a large restaurant kitchen. It is the world's most used fire extinguishing system for restaurant kitchens and is used by e.g. of several international hotel and restaurant chains e.g. McDonald's and Burger King. The extinguishing agent is a liquid which quickly quenches the fire and which emulsifies with the fat and forms a dense foam layer which prevents retransmission.
Approval
In Sweden, there are more than 1000 systems installed.
They are approved by Swedish fire authorities and insurance companies.
The system is automatic but can also be triggered manually with wires from a pull handle. It is completely mechanical and works independently of water or power supply.
The facility is made to blend well into a modern restaurant environment. The control panel with container and release mechanism is built into a stainless steel cabinet. The equipment takes up little space and can normally be placed immediately under the roof or even above the ceiling to save floor and bench space.
In case of fire
A fire quickly triggers the melt link in the nearest detector.
The detector wires activate the nitrogen cartridge so that the container is pressurized. Shut-offs for gas and electricity are activated via a microswitch on the release mechanism.
The extinguishing liquid sprays over frying and frying surfaces, in grease filters and exhaust air ducts.
The fire is extinguished in a few seconds. Through a chemical reaction with the hot fat, a dense foam is formed which stops the combustible gases and prevents re-ignition.
About the facility
The systems are completely complete with extinguishing agent containers, including the release unit and propellant cartridge, as well as stainless steel protection cabinets for containers with release devices. Pipe system consisting of nozzles, stainless steel hydraulic pipes and galvanized press or cutting fittings in steel. Heat detectors for automatic tripping and a mechanical wire tripping are included. All mounting materials such as break wheels, protective tubes, fastening devices, signs and instructions are also included. Installation costs and any inspection costs will be added.